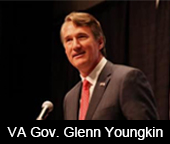 The topic of education was a major part of Youngkin's inauguration day speech. He spoke of the optimism for the future and a movement fueled by "the tenacity and grit of Virginians," including parents, students and teachers. He also nodded toward the impacts of school shutdowns due to the coronavirus.
"We know the impact borne by children who fell behind because their classrooms were locked down too long, and the strain placed on parents, especially Virginia's moms," he told the crowd at the state Capitol in Richmond.
He pledged to "raise standards" for education in Virginia, including to raise teacher pay, create "innovation lab and charter schools of achievement" within the public school system and invest in students with disabilities.
"We will remove politics from the classroom and refocus on essentials," he said to raucous applause. "And we will focus on essential math and science and reading. And we will teach all of our history, the good and the bad."